Helping turn your dream into reality
We offer a full design and build service for cars and motorbikes – original restoration through to complete customisation to your specifications. The magic happens in our well-equipped Northmead workshop which includes equipment rarely seen these days, like the Eckold Piccolo and we're passionate about providing our customers with exceptional quality and dedicated, professional service.
Hand forming and metal shaping skills
How to use metal shaping/fabricating equipment such as the English Wheel, replenishing hammer and the Pullmax

3 hour MIG $154 (8 students)

8 hour tuition $325 (flexible)

24 hour tuition $745 (flexible)

Project management skills – how to get your dream build finished and on the road
Introduction to MIG
OH&S PPE
Machine set parameters

Do's & Don't

Pro's and con's of MIG

Hands on experience

Limited to 8 students only
Introduction to TIG
OH&S PPE
Machine set parameters

Do's & Don't

Pro's and con's of TIG

Hands on experience

Limited to 8 students only
Our classes are (maximum 10 students) where you're guaranteed personal attention from us.
We have a maximum of 10 students to every teacher. Classes are all hands-on with no classroom style theory.
Options for experienced students of machinery to purchase 24 hour blocks for workshop use.
These students must contact MotoRRetro prior to purchase.
Gift Vouchers available: 3 hour MIG ($154), 8 hour tuition ($325, flexible) and 24 hour tuition ($745, flexible).
All students can use our workshop equipment during class time and selected consumables, tools and equipment are available for purchase.

Classes:
Tuesdays 5:30pm – 9:30pm
Saturdays 8:30 – 4:30pm
Trading Hours:
Monday, Wednesday, Thursday, Friday 7am – 3:30pm
Tuesday 7am – 9:30pm
Saturday 8:30am – 4:30pm
Terms & Conditions
Students must wear and be responsible for their own PPE (Personal Protective Equipment).
Hours purchased must be used within 4 months unless agreed otherwise,
eg. Overseas Defence service, due to illness or injury and personal health.
MotoRRetro is a partnership between Vaughan Ryan and Georgio Rimi. We met as apprentices at Ultimo TAFE in 1989, and were constantly vying for pole position in class. While at TAFE Georgio won a coveted spot in the NSW TAFE smash repair team at Bathurst in 1991. Vaughan won first in state at the NSW apprenticeship awards in 1989 and 1990. Despite our competitiveness, we became good friends.
Before starting MotoRRetro we both owned our own restoration businesses, and have over 20 years industry experience, including a stint in the USA where we worked for The Pit Stop in San Francisco, restoring Ferraris and Alfa Romeos. We both taught trade classes at TAFE – Georgio at Ultimo and Vaughan at North Sydney – and have over 16 years teaching experience between us. We started MotoRRetro together in 2015.
Started apprentice in 1989. Vaughan's family has a background in building and racing cars of dad and uncle. Interest: building and creating motorcycles and cars, restoring original & rare classics and restomods.
Obsessed with how things work, I learned to put them back together after I pulled them apart. In high school, I restored my first car for the HSC.  With experience for over 30 years & have been part of V8 and GTP racing car teams. I'm inspired by race and classic cars and have a long list of personal projects I need to get on with to make my own dreams a reality.
Tots has worked and trained with Vaughan in 1996. Started in 2017 with Motorretro after a short period away from the industry.
Joined in late 2018. Started working on cars at a young age of 13, when he bought his first car, a Morris Minor then Fiat 500.
1st year apprentice 2021. Joined Motorretro straight after high school. Grew up around Toyotas (dad's fault) and drives a couple of classics.
"This place is one in a million. Vaughan and Georgio embody the passion and experience of true craftsmen and their teaching experience means even newbies like me can see great skills development and make meaningful progress on our projects. It would not be possible for me without MotoRRetro. Keep up the great work lads."
"Restoration made easy with the help of the guys from Motorretro. I was able to do the basics but attending their classes and being able to bring my car on site to work on, as well as the workshop set-up, tools, assistance and knowledge in the industry made the work a lot easier and quicker which would have been impossible to do in my own private space."
"Georgio and Vaughan are very experienced and skilled but even better they are great teachers. The workshop is incredibly well equip with old and modern equipment. Thank you for guiding me through the project."
"Beyond the expertise, equipment and contacts, perhaps most importantly, the need for Motor Retro to do business is secondary compared to the commitment and passion to help people realise their dreams."
MotoRRetro English Wheel, Blocking Hammers, Auto Panel Resto Kits and Shaping Dollies are available for purchase.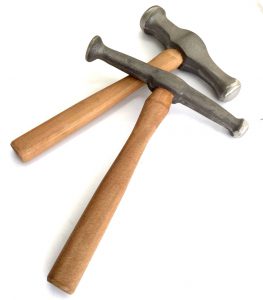 If you want to find out more about any of our classes or services or have a chat about our projects please get in touch